Gophers are popping out of snow drifts, a few early robins have been spotted. There's a tentative sense that spring might possibly, hopefully be just around the corner. A passing thought of hikes with the kids, the dog or just a friend crosses our mind.
It sounds good, at least in theory. But if your hiking shoes and backpack are covered in the dust of your last post-college trip to the desert many years ago, we've got some high-rewards, low effort options for you. Southwestern Montana can be intimidating for those that aren't inclined to break the record for nights spent sleeping under the stars, or hitting the big wave spring runoff with your kayak.
Here are some local, easy hikes for those who want to get back in time to have dinner at home and need to be able to get up and walk in a somewhat normal way the next morning:
Bear Canyon Trail (image courtesy of Bozeman Chronicle)
1. Bear Canyon: Located just east of town off the Bear Canyon exit, take Bear Canyon south until it ends. The complete Bear Canyon Trail is a 13 mile out and back trail located that features a lake and is rated as moderate, accessible from May until October without 4WD. Best to keep your dog on leash, as this area is frequented by bears, moose, foxes and other wildlife, including mountain bikers. Also great for snowshoeing when the white stuff refuses to leave.
Drinking Horse Trail (image courtesy of MERCURYcsc on Pinterest)
2. Drinking Horse: Located across from the famed "M" trail, I love this trail for its wildflowers, and the fact that you can easily pick and choose how much to take on. Super easy: Just take the trail to the creek, there's a few hills to get you going, but it's a short distance to the water and the cool bridge that crosses it. Drinking Horse is a 2.1 mile loop trail located off Bridger Canyon just outside city limits. The trail is rated as moderate, dog friending and great for people just getting started with hiking and looking for some elevation gain. Note: This one can get popular on weekends, so bring a leash if your pup is a wanderer or likes to chase wildlife.
3. Palisades Falls: A favorite place for ice climbing in winter, this is a great way to get a taste of Hyalite Reservoir without getting too serious about hiking and am amazing payoff. It's a do-able .5 mile asphalt trail at 11% grade, with the trailhead starting at the Palisades Falls Picnic Area parking lot. Good spot to take visitors to get a little taste of the Montana lifestyle with a great relaxing drive to the reservoir, and a little exercise to top it off. Bring a leash for your dog.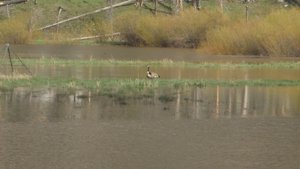 West Boulder Meadows - Absaroka Range (image courtesy of MThikes.com)
4. West Boulder Meadows: This is outside Livingston, south of Big Timber in the Absaroka Mountains (pronounced Ab-zor-kuhs by locals with the accent on the second syllable but leaving out the O all together). A great trail in excellent shape, it crosses private land at a point so take care. Total elevation gain of the trail is 325 feet, with great views and meadows, fishing and photography opportunities. Once you start the hike, the nearby noise disappears. There are some ups and downs, but it's all doable. Directions to trailhead: Follow highway 298 south from Big Timber for approximately 17 miles. Turn right onto West Boulder Road & follow gravel road for 7 miles, bear left to stay on the West Boulder road. After 7 more miles you'll see the parking at the end of the road.
Red Lodge Creek Trail, early season (image courtesy of MThikes.com)
5. Red Lodge Creek Trail: A great day trip from Livingston or Bozeman area, with a hike to boot. This trail is used a lot by locals, and offers an easy view of a mature forest. The upper part is usually closed until summer, so this is a good early season hike in spring or fall. If you have the craving to get into the mountains without all the gear (except what you'd normally take for unexpected weather) this one might fit the bill. Three miles in will give you a wonderful prairie view. Top it off with lunch at Bogart's or Red Lodge Pizza Co. and you've got yourself a great day.
Directions:
From Red Lodge, head north on MT-78 at the traffic circle just before town. Drive on MT-78 for 12.7 miles, and then turn left onto Lower Luther Road. 2.4 miles down this gravel road, turn right at the intersection, onto Luther-Roscoe Road. After another half mile, turn onto Upper Red Lodge Creek Road, which runs for 2.7 miles before entering the forest boundary. Turn right to stay on Upper Red Lodge Creek Road, and follow the road to the trailhead (1.4 miles).
Off you go! Don't forget to prepare for sudden changes in the weather of course. But you knew that, you're in Montana!