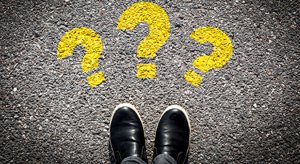 Back in November, which means before the extreme cold snap and mountains of snow descended on us, I wrote a post explaining what was going on in the market. There was a strange doomsday rumor circulating, that everything was going to crash, and there would be deals galore.
The concerns continue. Just last week, Realtor.com shared a survey they performed with active home shoppers (those who plan to purchase their next home in 1 year or less). The survey asked their opinion on an impending recession and its possible impact on the housing market. Here are two of the answers:
42% believe a recession will occur this year or next (another 16% said 2021)
59% believe the housing market would fare the same or worse than it did in 2008 (1)
This attitude mirrors what I was hearing last fall. Some conversations hinted that people were even secretly (and not so secretly) wishing for this to happen, so they could grab some deals. It's OK, it's human nature to approach scary things from a self-preservation standpoint.
Point is, it didn't happen. I was pretty certain it wouldn't, and now here we are in a busy market again. This year is shaping up to be just as busy and competitive as last year, with one exception:
Even lower interest rates.
Say what?
It's also important to remember that a recession doesn't always coincide with falling home prices. According to research done by CoreLogic, home values weren't negatively impacted as they were in 2008 during the previous four recessions. Here's a handy chart for you(2):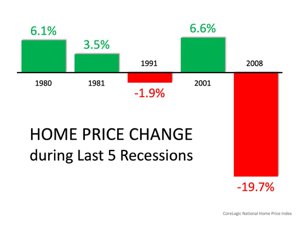 Yeah, 2008 was ugh-lee! We were all there, we remember. But look at the chart, three of the last four recessions show appreciating home values. The other MAJOR factor: Lending is a completely different animal than it was in 2008, everything about it has changed. Specifically to prevent another occurence like we saw then.
From the trenches, I can share that the market is active, it started out earlier and faster for our office than it did last year, and while some properties are sitting on market longer, I still believe that's due to poor pricing out of the gate, or an inherent flaw in the property as well (busy street, needs updating, etc) so rest assured, with these insanely low mortgage rates we are seeing, real estate remains a solid value.
We always run a comparative pricing analysis for our buyers before we write an offer, so you know how the house you want is positioned against similar properties in terms of list price. This helps prevent problems with appraisals, and gives you peace of mind that your offer is backed up by data and not just emotions.
Whadda ya say, shall we get started?
_____
(1)Content excerpted from https://www.simplifyingthemarket.com/en/2019/04/02/homebuyers-shouldnt-worry-about-2008-all-over-again/?a=477236-2ea95c3ebc35ccb0fd9e54b6ab2c103f
(2) Corelogic Nat'l Home Pricing index