Design is so simple. That's why it's so complicated." –Paul Rand
Staging Services
Stagers and interior designers follow similar design principles, but their goals are completely different.
Staging allows prospective buyers the ability to easily visualize how the spaces can be used, and make them their own.
40% of buyers are "more willing to walk through a staged home they saw online."
-2018 Nat'l Assoc. of Realtors Profile of Home Staging Report
Are you will to take a chance on losing out on a potential buyer because your home isn't shown in it's best light? Most real estate professionals do not come from a design background or have experience working with clients to physically prepare a home for sale.
In addition to years of experience as a set decorator for motion pictures, tv commercials and music videos, Page worked as a landscape architect and site planner for close to two decades, also teaching design and marketing at Montana State University. This experience translates to being a leader in understanding how to sell your property faster and for more money than competing properties that aren't staged or don't use professional photography.
One of our home staging professionals will meet with you to determine the best way to elevate your homes's online reputation as part of our listing services.
Get our FREE downloadable guide to answer your home staging questions: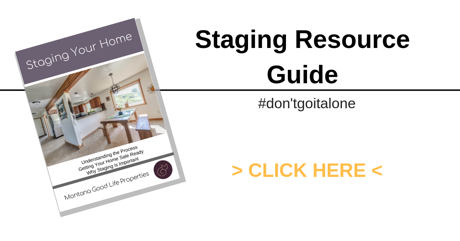 "We were amazed at how Page flawlessly handled all of the details of the simultaneous transactions. She spent significant time overseeing the staging our home which certainly helped expedite the sale. We would highly recommend Page to anyone looking to buy or sell in the Gallatin Valley". -- Cody, Bozeman MT
The decorator works to make a home reflect the taste and support the lifestyle of the owner, but stagers' sole purpose is to transform a home so it appeals to the greatest number of potential buyers.1
Contact us to review options to elevate your home's appeal when we woke together.