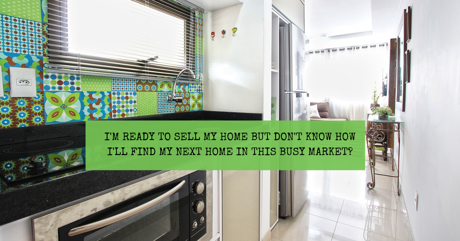 Selling quickly is definitely something to get excited about, but what comes next in a busy market with low inventory If you're ready to sell, but having a hard time committing to the process because you're worried about inventory of homes to buy? You do have options!
It starts with ensuring you and your agent are on the same page. You want to avoid:
Price cuts because you are under contract to buy another property

Low ball offers when buyers know you are in a bind

Having to rent out of necessity so you can honor the closing date of your buyer
We are seeing more homes coming on market as spring starts to show it's face, but there's still a challenge for sellers: When you need to buy another home when you are selling, until our inventory increases, finding that next home might take longer than it used to. But, in a sellers market, there are still more pluses and benefits to selling your home quickly than possibly being in limbo, in between homes.
It all comes down to the planning. Here are three options (among others) we discuss with our sellers before we go on market:
1. Short-term (Bridge or HELOC) loan

: This type of financing allows you to purchase your next home without a contingency to sell your current home. Offers contingent on a sale and closing are rarely accepted in our market, with other offers beating them out with better terms. This also allows you to move out of your current home into the new one, without the stress of keeping the home tidy and available for showings (a major stressor for sellers).
2. Sale contingent upon finding a replacement home:

This is somewhat common in a seller's market, stating the seller must locate and go under contract for their next home before they will set the closing date. This option will limit the potential buyers for your home, since most moves are time sensitive, but if you have a desirable property, buyers are often willilng accommodate this. I always recommend starting your search before you go on market, so you have a better idea of what's out there right now. Check with your agent on details so this option is managed to protect you adequately.
3. AirBnB or other executive long term housing options:

This is become more popular in our area as people relocate here for jobs and cannot find a home to buy. You'll pay a premium for this option, but if it's for a month or two, and makes the difference between selling now at the height of our market or waiting, this can be a great option. If it means getting top dollar for your home versus holding off, the cost may not sting as much.
Connecting with a good agent at your destination can help you understand the pace and pricing of that market, and we can coordinate with them and the title companies so it goes smoothly on both ends. We offer concierge level agent connection services across the state and country if you are relocating.
Learn more about that service here.
4. Rent back after closing: This option allows the seller to stay in the home and "rent back" from the buyer or new owner for a specified period of time. This is becoming more popular, so the seller has time to either close on the next home or just needs a couple of weeks or a month (or more) to pack, finish out the school year, whatever they need. A lease agreement specific to this situation is drafted and signed by all parties, sometimes with a lease fee and sometimes not, with all of the terms and expectations spelled out.
Again, an experienced agent can help draft this paperwork to protect you while also appealing to the ideal buyer.
Let us do the heavy lifting for you in helping you get ready to sell your home and buy the next one. What can we achieve together?