Moving to Montana
What are you waiting for?
The biggest obstacle for most people I've worked with is trying to get a full understanding of what it's actually like to live in Montana.
Are the winters really that cold? How much does it snow? When does it start snowing? Is there public transportation? Are the roads plowed regularly? Do people ride horses to work?
When moving here for the first time, or even if you're coming back after being away, there will be things to adjust to. Winter (and spring and summer) cold snaps = more boots and coats, making new friends and business connections, trying to navigate the ins and outs of the nightlife and outdoor opportunities… it's more than just beautiful mountains and big wonderful skies. Montana gets under your skin. That's why it's a bucket list state for so many people.
Taking the leap.
You're finally ready to make the jump to Montana. When you visited Montana, whether it was 20 years ago or two months ago, you knew. This is your place. These are your people. Independent. Hardworking. Creative. Free-spirited. Adventurous. Maybe a little crazy.
It felt like it could maybe, just maybe be the place.
But something is holding you back. Yet you're here, on our website reading this. The thing I want you to know is, you don't have to make the move alone.
You can also access the 2023 Southwest Montana Resident's Guide now. Just click the image below: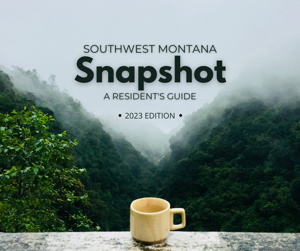 Request our MOVING TO MONTANA guide and get info on activities, lifestyle, building a business and career, and more. That's an easy first step. We'll be there as the guide for the rest of the journey.
Why is everyone moving to Montana?
It's always been a ski/fishing/hunting/Yellowstone destination, but with COVID making remote work more possible, it became a hot spot. We saw 28% appreciation in a year's time, but the market has definitely begun to normalized over the last several months.
What should i know before moving to montana?
If you are already here, then you know about our long (but very sunny) winters in the southwestern part of the state. We get many, many more days of sun per year than other parts of the state, which makes spending time outdoors much more enjoyable. Another thing that many natives aren't aware of it Montana is a non-disclosure state, meaning sold prices are not public record. So using Zillow or other sites like it will not give you an accurate answer to what properties are selling for. Only a licensed real estate agent has access to that information.
How many people are moving to Montana?
An early 2022 report by NBC News on new state-to-state migration shows 73% of Montana moves are into the state, compared with 27% moving out. The next highest is Alaska with 67% inbound moves to 33% outbound moves. Montana has the highest proportion of inbound moves in the US. But if you are coming here from a larger metropolitan area, it's still a sleepy small and welcoming town by comparison.
MOVING OUTSIDE OUR AREA OF SPECIALTY IN MONTANA?
Looking out of our area, but want to work with an experienced, vetted agent?
Use our Concierge Agent Matching Service! We will help you if you are buying or selling within Montana or throughout the country. If you are going in the opposite direction, we hate to see you go, but we can help you find an agent to sell your home in your current location. We have a regional and national network of agents we can match you with. Click here for help getting connected to a vetted agent wherever you are headed.
Read what some of our relocation clients have to say:
Oh we are so happy to have found Page! She is a treasure – not only a super nice, thoughtful, and honest person, we found Page an excellent negotiator and creative strategist when we bought our Bozeman home. With her help, we were the winning offer on a multiple-bid property that was exactly what we'd been looking for. In fact, the property was one we'd dismissed due to poor Internet pictures and based on our conversations about what we wanted in a house, Page insisted we take a closer look.
She really took the time to get to know us, our values, tastes, and understand our budget. Page is super responsive by email, text, and phone, and truly goes above and beyond before and after the closing, providing check lists, extra pictures, videos, info on neighborhood, schools, trails, insights into Bozeman life. Her background as landscape designer gives her a great design sense and she can easily articulate a property's potential for you. She has made our purchase so easy and we highly recommend her.
–Julie, Seattle WA
________________________________________________________________
I have bought and sold houses sine I was in my 20's and I have never been so impressed with any realtor as I was with Page. She listens to who you are- what pushes your buttons in a home- she's sensitive to the budget- she knows the different areas to look at- honestly- I wish Page was in Denver because I want to share her with EVERYONE that is either buying or selling a property or home!! Page is a real- authentic individual that operates with a sincere intention to SERVE her client!! Incredible experience!!
–Kim, Denver, CO
Read about more experiences here. Or just give us a call!