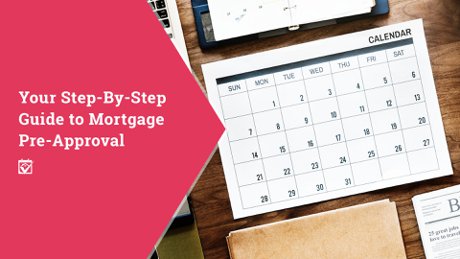 Picture this: You are sitting in a hallway, waiting for a stranger in a suit to size you up and decide if you're worthy as a potential homeowner. Your palms sweat and your breath gets a little quicker. You're one step closer to owning your own home, but this one is a doozy -- you are waiting for your appointment for your mortgage pre-approval.
Stop! It doesn't have to be scary. Let's quickly talk about the mortgage pre-approval process, step-by-step.
Step One: Mortgage Pre-Qualification Versus Pre-Approval
You may already have a pre-qualification letter saying that you can probably buy a house in a particular price range, so why isn't this enough? (Don't have that, we definitely need to talk) A lot of homebuyers find this next part of the process confusing, and frankly, it can be. We've got your back on this one.
Your pre-qualification was probably done over the phone, through an internet application or during a meeting with a lender. Many people start with where they bank. This may or may not be the right place to end up.
They asked you a bunch of questions about your income, your job and maybe even pulled a "soft" credit report to get some idea about your debts.
Based on this information, they gave you the details on the kinds of programs you're eligible for and how much you can expect in buying power. You probably got a letter that you could show your Realtor to help guide the buying process.
The difference between the pre-qualification and the pre-approval is simple: a pre-qualification is based largely on your word. If you give the lender incorrect information, they'll give you a pre-qualification letter that's not right.
A pre-approval, on the other hand, takes a harder look at your background, work history and requires a full credit report and FICO score to ensure that you can, in fact, pay back a note.
Step Two: Documentation
Your next meetup with the nice lender is going to be to deliver (or email) documents, provide consent to pull a full credit report and, if you've already found one, give them the information on the home you've put under contract. Make sure you have your signed agreement with your chosen agent as part of this process also. It's a team approach that will get you through this.
Documentation you'll be asked to bring will include pay stubs, bank statements and tax returns, along with other information that may be needed to verify your income source or sources. Self-employed people, for example, are sometimes required to prepare profit and loss statements (or just pony up more tax returns). If you have assets like a 401(k) or even a CD, you'll want to bring the details on these, too.
Step Three: The Loan Estimate Form
You're going to get a copy of something called the Loan Estimate Form (names may vary by lender), probably at the same meeting where your lender pulls that full credit report and takes all your papers away. This form explains exactly how much they expect you'll need to bring to closing, along with itemized estimated fees to plan for at closing. If you're shopping your loan, collect these and compare them side by side before you make your final choice.
If you haven't found a home to purchase yet, this will be general. Ask your lender to contact your agent (hoping it's us here) and share details about how much you qualify for and other details that will help us to write the contract in the most competitive way.
But don't spend too much time crunching the numbers. Just like your contract will say, "Time is of the Essence."
Step Four: Acceptance
Once you've had a few minutes to review the paperwork and you've made your final pass through the numbers, all that's left is to call the lender you've chosen and let them know you need that pre-approval letter sent over to your Realtor (hello again!) We will note this is the contract and attach it to your offer to show the seller of the property you want to buy that you have done your homework and are indeed a qualified buyer.
Understand that a pre-approval is not a guarantee that you're going to get the money you need to close. Several things can go wrong along the way through underwriting, including, but not limited to:
– Unverifiable income (this is often due to issues with overtime)
– A change to your credit score.
– An increase in your debt to income ratio (don't buy anything!)
– An undocumented change in employment
– Assets that are unverifiable
etc...
The best plan is be totally honest with your lender when you get your pre-approval so that you don't get a last minute call telling you that your loan has been denied (this actually happens, so pay everything on time and don't take out new credit lines or add to old ones until you've got the keys in your hand). It can be daunting to share personal information with someone new, especially if your facts are, um...less than stellar. Remember, there is no judgement here, by either us or your lender. We are all working together towards a common goal.
When is the Best Time to Make an Offer?
Ideally, you should have a pre-approval letter in hand before you so much as set foot into the first house you're considering for purchase. In fact, we require our buyers to complete that step first. After all, the seller isn't going to think you're all that serious without one, nor will they be keen to want to negotiate under these circumstances. If you have an agent showing you houses without one, they aren't doing their best job for you.
Help your lender help you get the best deal on the house of your dreams, save everybody a lot of headaches and get that pre-approval first. Knowing how much your closing costs are going to be will also help your Realtor write your contract accordingly if they should need to be wrapped into your mortgage. We can help you with this also, during the househunting process.
Basically, that document is the key to everything. So, no pressure.
When You Need a Loan for Your Home…
Finding a banker you can trust these days couldn't be easier. The first and best stop is to ask us. We have a list of vetted lenders and brokers we have worked with, and can help match make you with the one that suits your situation best.
Check out your current bank, and at least one or two others. Some homework up front will make sure you don't get a big surprise a few days before closing.
We are here for you! Here's what some of our clients say about working with us.