Click here to view video of Butch & Debbie.
In an ideal situation, you'd find the right home to buy, pack up your things from your current home, and move. Then, once things are settled, you prepare your old home for sale, and then sell it.
That can happen, and we'll talk about that in just a bit. But here's the more common scenario that home sellers dread:
"Hi Page, OK, we need to downsize/upsize/lateral-size/relocate...one of the above.
We have some money for the down payment on the new house, but need to sell this house to buy that one. We can't afford two mortgages at once. Well, we could possibly do it for a little while, but I can't handle the stress or uncertainty of that. What if it doesn't sell? I can't do it!
Also, what if someone comes in the door and wants to buy our house right away, and we can't find a new house? There's nothing to buy right now, and we've been looking for a looong time on the internet. What happens then?"
Lots to think about. but first...
We are currently still in a seller's market, even though it is quieter and a tad slower than it has been the last several years. A sellers market means there are more buyers than there are homes available, so someone with a home to sell is in a position of power. Within reason.
If a property is prepped for sale, staged and priced appropriately, it will likely sell quickly. As of last month, the median days on market for a single family home in our area is about 47, up from about 8 days this time last year. That's not necessarily a bad thing, but it also means that in order to meet that typical time frame, you can't price the home above what it will likely sell for. An extra couple of months on market could throw everything off, and possibly end up costing you more in the long run. Let's avoid that.
My rule of thumb regardless of the market: The longer your home is on the market, the less it will sell for.
Let's dive into the options:
1. Sell first, then buy.
This is how most people think it MUST go. But it rarely happens in that order.
You prepare your home for market, list it, close and then look for a new home. This works well if you have a temporary place to live and/or store your items, or are comfortable doing a post-close occupancy rental agreement with the new owner until you find a place.
The problem with this option is, you need a buyer that will agree to that. That make your property desirable to a smaller pool of buyers. It's not impossible, just more constraining. Regardless, you are still under the gun to find that new home, whether you are couch surfing or renting your former home. Not ideal.
2. Buy first, then sell.
Buying your next home first gives you the most control over finding the perfect property instead of being rushed to find whatever happens to be on the market. Using your current home's equit, taking out a short-term bridge loan or mortgage or finding seller financing until it sells are just a few of the ways I've worked with clients to make this happen without a lot of financial stress.
If you are relocating to a different market, I can also provide you with information on the community, average home sales pricing, and other data to help you make that decision.
3. Sell and buy at the same time.
Several stars must align in order for this to happen. Without additional financing you typically will need to get an offer accepted contingent on you closing on your current property. This works best if it's already under contract, and is also possible if it's been listed (though that's a weaker offer). The less desirable option is to wait to list until you have an accepted offer based on you closing, but sometimes that can be done if the house you want to buy doesn't have a lot of competition, needs some work or has been sitting on market for awhile.
The goal with this option is to spell out clear and specific terms so both you and the seller understands how it will go.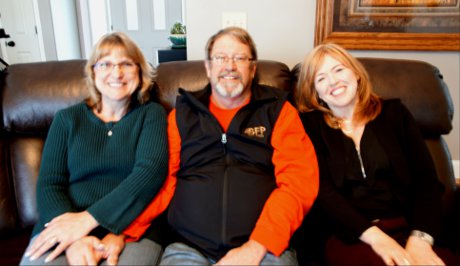 Hanging out in their new home!
Equity growth in our area has been projected to be anywhere from flat to 2-3% in the next year, increasing slightly after that in 2024. But since we still have low inventory in comparison to the number of buyers looking here, you are still in the driver's seat in terms of choosing the approach that works best for you.
Let's sit down and talk options. My goal is to help you live the lifestyle you want in the home that matches that lifestyle best. Whether it's now or in several years, I hope to be a resource you can count on for accurate, honest information.
________
"Best agent I have ever worked with, hands down. Exceptionally professional, knowledgable, honest and communicative, and handles complex transactions seamlessly. Page goes way above and beyond, especially and importantly in the current environment. She has a wealth of experience and it shows." --Michele H, Bozeman
"The sale of my house went very smoothly working with Page. Page is hard working and organized. It is a complex task to navigate multiple offers; Page presented the comparison between offers in an organized manner. Her communications, attention details and professionalism is exceptional. I recommend Page to sellers and buyers." --Mitchell K, Bozeman